Daily dents
Western culture teaches us that we are all capable of big things; that we are all able to 'put a dent in the universe'. This is backed up by stories about amazing individuals like Steve Jobs, Nelson Mandela, and Mahatma Gandhi and how they have influenced our society. We are encouraged to mirror ourselves against these fine people: dream big, everyone!
But that's a pretty high bar to set for most people – unrealistically high, in fact. While a very few of us will make such dreams come true, the large majority is left with a sense of not living up to the expectations. Such anxieties are not only troublesome, they are also completely ill-founded.
Because real progress is not made through big dents. Real progress is made through many small dents: those little life choices we all make every single day. Every time we treat the other well, we pass the favourable on and make the unfavourable die out.
When you consider this viral aspect, think about the impact we make on the world by the way we raise our children. This doesn't usually lead to any hero stories that make their way to the larger audience, but we our collective individual influence cannot be overestimated.
Keep making those daily dents.
—
Also, this: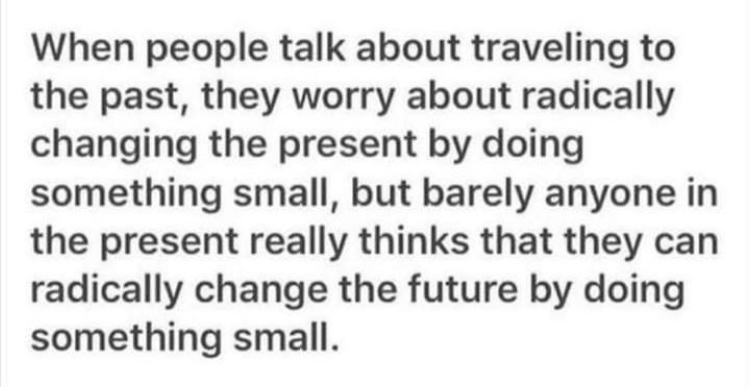 Daily dents, people.
Index
"Make the world work, for 100% of humanity, in the shortest possible time, through spontaneous cooperation, without ecological offense or the disadvantage of anyone." - R. Buckminster Fuller

1. UNDERSTANDING THE PROBLEM

On sustainability
2. UNDERSTANDING HOW THE WORLD WORKS

On nature
On human nature
On the meaning of life and living
On culture
On morality
3. UNDERSTANDING HOW CHANGE WORKS

On the Next Level Society
On behavioral change
On marketing sustainability
4-A. FIXING HOW WE DESIGN THE WORLD

On naturalness
On naturalness in behaviour
On naturalness in art
Artworks of interest
On naturalness in architecture
Architecture of interest: naturalness
On livable architecture
Architecture of interest: livability
On naturalness in design
Design works of interest
4-B. FIXING OUR RELATIONSHIP WITH OURSELVES

On well-being, self care and happiness
4-C. FIXING THE RELATIONSHIP BETWEEN BUSINESS AND SOCIETY

On responsible business
On Positive Design & design ethics
On privacy
Progressieve bureaus van Nederland, 2021
OTHER NOTES AND WRITINGS

On digital design, CX/UX, and technology
On the travel & hospitality industry
Miscellaneous
On minimalism

About